05/21: Writing and preparation of articles and contents on the post-2020 SAPBIO SPA/RAC website and social media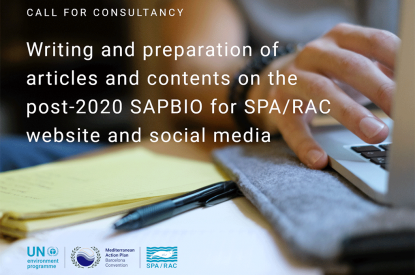 UNEP/MAP - SPA/RAC is launching a call for consultation for the writing and preparation of articles and contents on the post-2020 SAPBIO for SPA/RAC website and social networks
SPA/RAC is developing the "Post-2020 Strategic Action Programme for the Conservation of Biological Diversity and Sustainable Management of Natural Resources in the Mediterranean Region ", commonly known as SAPBIO post-2020.
In order to better promote this strategy and its products, SPA/RAC is launching a call for tender for the writing and preparation of articles and contents to be published on the website and social networks.
Proposals must be received no later than 14 June 2021 at 23:59 UTC+1 (Tunis time).
The terms of reference (available in French only) are available on the following link.