09/20: Launch of national consultations for the preparation of the new strategy for marine biodiversity conservation of in the Mediterranean Sea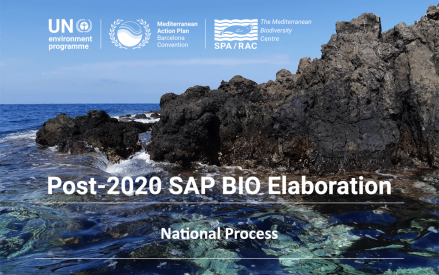 The meetings will continue until October 2020 in order to define the priorities and orientations of each Mediterranean country to be considered in the new Post-2020 SAPBIO.
In the framework of the preparation of the Post-2020 Strategic Action Programme for the Conservation of Biodiversity and Sustainable Management of Natural Resources in the Mediterranean Region (Post-2020 SAPBIO), SPA/RAC has organized several national meetings (online) since July 2020, to discuss the priorities and orientations of each Mediterranean country in terms of marine and coastal biodiversity conservation. The discussions involve national stakeholders (government officials, scientists, NGOs representatives and other resource persons) from different fields of expertise as well as the SPA/RAC National Focal Points.
The national level process should continue until October 2020. It constitute the first step in the preparation of the Post-2020 SAPBIO. Following this stage, a report on the status for marine and coastal biodiversity of each Mediterranean country will be finalized. It will include in particular:
The state of the main ecosystems, habitats and associated species;
Marine and coastal biodiversity' threats and other factors of degradation, including pollution and fisheries interaction with marine vulnerable species and habitat;
Threats and other elements related to climate change;
Measures and other elements of governance related to the conservation and sustainable use of components of marine and coastal biodiversity including fisheries interaction with the marine vulnerable species and habitat;
The main gaps in knowledge and governance.
Each country national report should contain also objectives and related priority actions as well as national needs in terms of capacity building, networking, data access/sharing, cooperation, exchange of experience and financial resource mobilisation.
In a next stage, sub-regional analyses and consultations will be conducted to foster complementarity and harmonisation between the national priority actions, notably those with transboundary nature such as biological invasions, climate change, representativity and connectivity of Marine Protected Areas (MPAs). The sub-regions considered in this work are constituted as follows:
Western Mediterranean: Algeria, France, Italy, Monaco, Morocco, Spain and Tunisia.
Ionian & Central Mediterranean: Italy, Libya, Malta, Tunisia.
Adriatic Sea: Albania, Bosnia-Herzegovina, Croatia, Italy, Montenegro and Slovenia.
Aegean Levantine: Cyprus, Egypt, Greece, Israel, Lebanon, Syria and Turkey.
Steps for the elaboration of the Post-2020 SAPBIO