06/20: EnviroFest 2020 is launched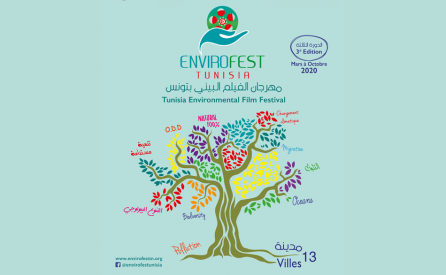 After the suspension of all cultural events due to Covid 19, SPA/RAC is pleased to announce the rescheduling of the Environmental Film Festival of Tunisia ENVIROFEST with a first session in La Marsa on June 26th and 27th
This festival is the first of its kind in Tunisia, combining culture, environmental cause and interaction with the public. The SPA/RAC has been a partner of the initiative since 2018.
For its 3rd edition, the festival will start on 26 and 27 June 2020 in La Marsa, and will continue until mid-September in 6 other coastal cities under the theme "Let's keep our beaches clean this summer".
The tour will continue in October at the Cité de la Culture in Tunis in partnership with the Tunisian Cinémathèque and then in 4 cities in central and southern Tunisia, until the end of November.
Calendar:
26-27 June: La Marsa
July: 15-16 in Bizerte / 24-25 in Monastir
August: 7-8 Djerba / 21-22 Mahdia
September: 5-6 Haouaria (Kélibia) / 18-19 Sfax
October: Tunis / Gabès / Redayef
November: Tozeur
Programmme for June 26th and 27th (La Marsa):
From 6:00 pm to 8:00 pm: raising awareness activities for the general public on the Boulevard of La Marsa.

Puppets theatre on marine environment topics and workshop to create puppets using recycled plastic products for children (5-10 years old).
Workshop for kids (11-16 years old) to demonstrate plastic sorting and recycling in partnership with Tunisie Recyclage NGO.
"Environmental village" dedicated to environmental NGOs.
Photobooth, set up by the SPA/RAC, to pose for photos and express your engagement and support for the protection of the Mediterranean.

From 21:00 to 00:30 - 2 film screenings per evening on environmental issues in the open-air cinema, on the basketball court, with a capacity of 200 to 300 seats.
During the 2 days of the festival in La Marsa: outdoor photo exhibition produced by SPA/RAC, visible on the outside fence of the Palais Essaada: 24 panels of 1m20 x 1m80 with underwater photos on marine habitats taken in several Mediterranean countries by Renaud Dupuy de la Grandrive et Mathieu Foulquié.
All these activities will also be scheduled in other cities during the 2020 tour.
The SPA/RAC's contribution to the EnviroFest festival falls within the framework of the MedBycatch (bycatch mitigation), MedKeyHabitats II (conservation of marine habitats) and Marine Turtles (conservation of marine turtles) projects, funded by MAVA foundation for Nature.