03/20: Kick off of the EU-funded IMAP-MPA Project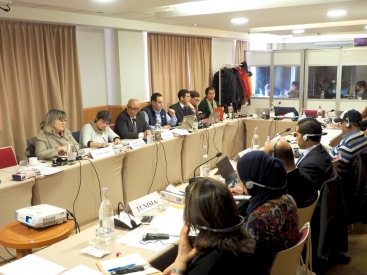 The first steering committee and kick off meeting of the EU-funded IMAP-MPA Project was held in Tunis, on 10 March 2020
The IMAP-MPA Project is an innovative EU funded project that will enable for a first time connecting two relevant regional priorities: the Integrated Monitoring and Assessment Programme (IMAP) to the management of Marine Protected Areas (MPAs).
The project is managed by UN Environment/MAP Coordination Unit and co-executed by MEDPOL and SPA/RAC, in cooperation with PAP/RAC and INFO/RAC on hydrography and data inputs respectively. Seven Southern Mediterranean Countries, Contracting Parties to the Barcelona Convention, namely: Algeria, Egypt, Israel, Lebanon, Libya, Morocco and Tunisia, are beneficiaries of this project. Jordan and Palestine, which are not Contracting Parties to the Barcelona Convention, will take part and/or benefit from activities related to exchange of best practices and/or regional capacity building.
This 42-month project will contribute to the achievement of Good Environmental Status (GES) in the Mediterranean Sea through the consolidation of the ecosystem approach (EcAp) process into Marine Protected Area (MPAs) management and development. This will be achieved through the monitoring and assessment of a set of agreed common indicators in MPAs and in areas of high pressures, and the enhance of MPA management to Achieve Aichi Target 11 in the Mediterranean.
The first Steering Committee and kick off meeting of the IMAP-MPA Project was opened by the UNEP/MAP Deputy Coordinator, Ms Tatjana HEMA who chaired the Meeting, the SPA/RAC Director, Mr. Khalil Attia and the representative of the European Union- DG NEAR, Ms Sylvie Fontaine. The gathering was attended by representatives from Egypt, Morocco and Tunisia, and provided an opportunity to present and discuss in depth the planned activities and the modalities of their implementation at both national and regional levels, and further clarify several aspects regarding the approaches adopted for monitoring, data collection and communication. It also provided recommendations regarding activities' and workplan implementation.
The Meeting acknowledged the instrumental role of this Project in introducing and creating the first experience on integrated implementation of the IMAP at national level, delivering to the extent possible an integrated assessment of the GES, coupled with enhanced MPA management, and seized the opportunity to thank the European Commission for the continuous support on issues related to IMAP implementation and strengthening MPA sustainability in the Mediterranean.