07/16: RAC/SPA to the MedCOP Climate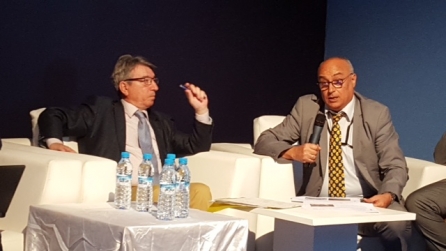 RAC/SPA is participating to the Mediterranean Forum on Climate to present the role of MPAs in the mitigation of climate change impacts.
MedCOP is the forum of state and non-state stakeholders in the Mediterranean organized in preparation for the 22nd World Climate Conference (COP22). The leaders of Mediterranean territories met in Tangier on 18-19 July 2016 to trigger positive dynamics to preserve the region and be a proposition force so that COP 22, which will be held on November 7-18 in Morocco, could reach concrete and ambitious commitments.
RAC/SPA participated in the forum, within the framework of the event on the "Mediterranean Protected areas: natural solutions to address climate change". Represented by its Director, Mr Khalil Attia, RAC/SPA has shown how coastal and marine protected areas contribute to increasing the resilience of marine and coastal communities and mitigating the impacts of climate change.
During the event, the role of coordination and cooperation within countries to promote action for the conservation and resilience of ecosystems and populations was also discussed with the various Mediterranean institutions representatives.
For more information : http://medcopclimat.com