06/16: Sea turtles of Tyre (video)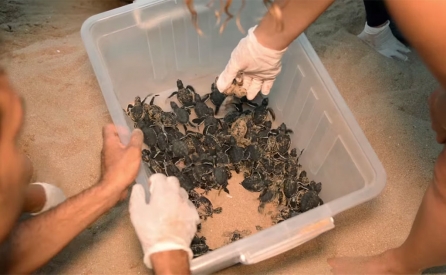 The nesting season of marine turtles begins in the Mediterranean. Images of newly hatched marine turtles, taken in Tyre Coast Nature Reserve, are herein presented
It takes about two months before the hatching of marine turtles occurs. The young turtles should then quickly reach the sea, and avoid getting caught by seabirds and other predators.
In southern Lebanon, particularly in the coastal nature reserve of Tyre, efforts are made to maximize the chance of survival. Marine turtles are endangered in the Mediterranean, and need protection measures to avoid extinction.
RAC/SPA supports efforts to conserve marine turtles in Tyre since 2012, through capacity building, the establishment of a rescue centre and by satellite monitoring of marine turtles.
The video, herein presented, has been produced by Scott Preston in the Tyre Coast Nature Reserve, during the last nesting season. These are the first fragile moments of marine turtles life.
For more information, write to Tyre Coast Nature Reserve: tcnr98@hotmail.com