12/12: Adoption of the Action Plan for the Conservation of Sea Turtles & their Habitats in Albania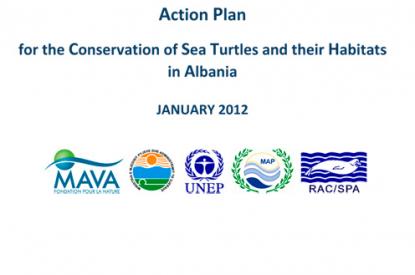 This Action Plan was adopted through a Ministerial Order (No. 596, 22.11.2012) of the Minister of Environment, Forests & Water Administration, Mr. Fatmir Mediu. This adoption was officially announced at the 32nd Meeting of the The Standing Committee of the convention on the Conservation of European Wildlife and Natural Habitats (Bern Convention) at the Council of Europe, in Strasbourg, France (27-30 November 2012).
The Action Plan for the Conservation of Sea Turtles and their Habitats in Albania is a result of extensive consultation with Albanian experts and scientists, which was carried out during 2011 by MEDASSET and the MoEFWA, with the support of the MAVA Foundation and under the auspices of the Barcelona Convention - Regional Activity Centre for Specially Protected Areas (RAC/SPA).
The document is available through the Ministry and MEDASSET websites (in English and in Albanian).