10/2012: National Information day on marine turtles - Tunisia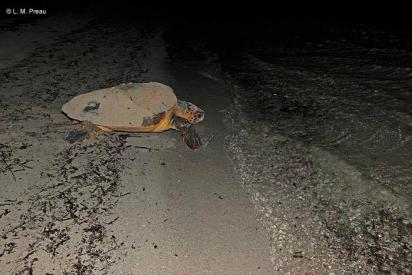 The Tunisian Ministry of Environment organized, in collaboration with RAC/SPA, a national information day about marine turtles on Friday, October the 11th, 2012 at the Skanes Serail hotel at Monastir (Tunisia)
Other national partners contributed to this information day: the Agency for Coastal Protection and Management (APAL), the National Institute for the sea's Siences and Technologies (INSTM), the Fisheries and Aquaculture Directorate (DGPA) and the Tunisian Agricultural and Fishing Union (UTAP)
About Sixty people representing different research institutions and administrative structures on the fields of fishing industry and environmental protection, as well as many representatives of civil society, took part in this information day.
This event showcased the status of marine turtles in the Mediterranean and Tunisia and the conservation measures undertaken at regional and national levels.
Several topics were discussed, and participants emphasized the awareness of fishermen, civil society and public and their role in the conservation of marine turtles.
Among the recommendations adopted at the end this day:
Preparation of a National Action Plan for the conservation of marine turtles.
Training of fishermen using the tools developed by the RAC/SPA for the protection of marine turtles.
Updating and revision of the Tunisian national regulations on the protection of this vulnerable species in accordance with the annexes to international conventions and protocols ratified.
Implementation of additional and synergistically efforts to preserve vulnerable, endangered or threatened species in Tunisia and more specifically marine turtles.
Activating the process of MPAs creation, particularly the Kuriat islands witch are the main nesting site for marine turtles.
For more information: lobna.bennakhla@rac-spa.org