The MAP structure: MEDU, programmes and centres
The MAP is managed by the MAP Coordinating Unit (MEDU), in charge of its Secretariat. Responsible for following up and implementing the MAP's legal documents and activities, it has a diplomatic, political and communicative role. It supervises the elements of the MAP, including six Regional Activity Centres (RACs). The MAP also includes: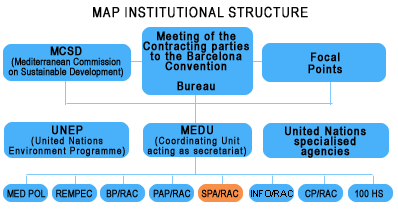 The six RACs offer their expertise in specific fields of action:
The Regional Activity Centre for the Blue Plan/Plan Bleu - RAC/BP (France)
The RAC/BP adopts a systemic and prospective approach to the Mediterranean environment and development issues, using observation and assessment instruments. Experts produce scenarios for reconciling the environment and the realities of socio-economic development in a drive to help Mediterranean countries make decisions with the future in mind.
The Regional Activity Centre for the Priority Actions Programme - RAC/PAP (Croatia)
The RAC/PAP concentrates on integrated coastal zone management to alleviate development problems in built-up coastal areas. The centre offers technical assistance and coordinates Coastal Area Management Programmes (CAMP) that typically involve the participation of many local bodies.
The Mediterranean Regional Centre for Emergency Action against Accidental Pollution - REMPEC (Malta)
The REMPEC assists Mediterranean coastal states build national capacities to prevent or act in the event of major marine pollution incidents. The centre also facilitates cooperation between countries in combating accidental marine pollution from a range of hazardous substances including oil. REMPEC is managed under the joint auspices of MAP and the International Maritime Organization (IMO).
The Regional Activity Centre for Information and Communication - RAC/INFO (Italia)
RAC/INFO provides communication services and technical support to the MAP Secretariat and the other MAP regional components (RACs). It also focuses on enhancing public awareness and establishing multi-sector working partnerships that enable sustainable development across the Mediterranean region.
The Regional Activity Centre for Cleaner Production - RAC/CP (Spain)
The RAC/CP promotes the at-source reduction of industrial waste from the Mediterranean industrial sector and disseminates tried-and-tested cleaner production techniques. The centre also organizes training programmes, and promotes the exchange of experts, facilitating technology transfer within the region.
The Regional Activity Centre for Specially Protected Areas - RAC/SPA (Tunisia)
RAC/SPA focuses on biological diversity and is involved in protecting Mediterranean species, their habitats and ecosystems. Dedicated to assisting the Contracting Parties implement the SPA/BD Protocol, it develops management plans, information tools for monitoring, and promotes awareness campaigns and the circulation of information among specialists and relevant international organizations including NGOs.